The European Space Week, the go-to event for Europe's space community, is happening from 3 to 6 October 2022 in Prague, Czech Republic. From policymakers to industry, start-ups, entrepreneurs, public authorities, investors and users, it is the place to be for anyone interested in current – and future – trends of the EU's Space Programme. The four days of the event are packed with plenaries, panel discussions, award ceremonies and high-level keynote addresses.
The event is jointly organised by the European Commission and the EU Agency for the Space Programme (EUSPA) in collaboration with the Czech Presidency of the Council and the City of Prague.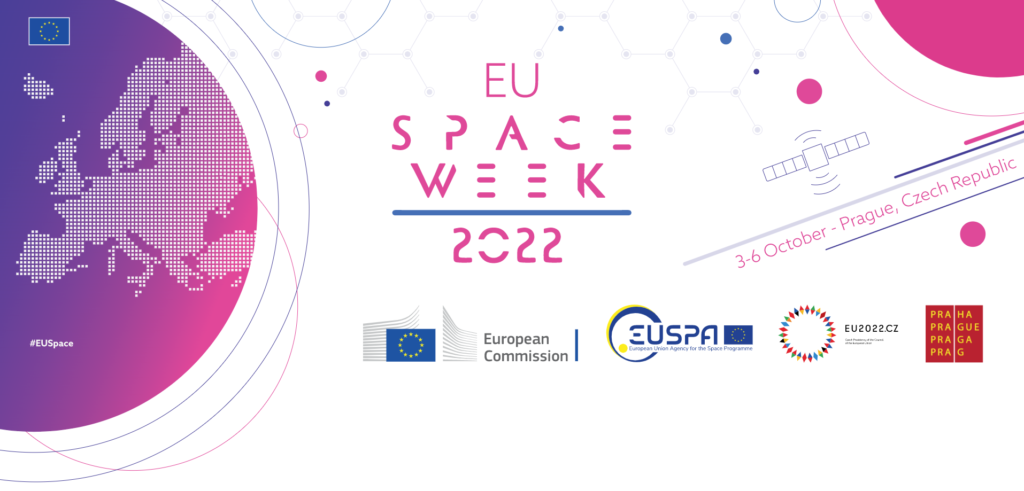 The EU Space Programme
The new Space Programme of the European Union adopted in 2021 sets an ambitious agenda for a more dynamic, innovative and resilient European space ecosystem. EU Space provides innovative space technology, data and services indispensable in the lives of Europeans, and addresses an increasing range of EU ambitions and priorities.
The EU Space Programme consists of several flagship components:
EU Space User Consultation Platform
The EU Space User Consultation Platform (UCP) is a user requirements event, a focal point for EUSPA and the European Commission to take the pulse of the wide-ranging user communities of the EU Space Programme. The Consultation engages users, industries, service providers and R&D stakeholders involved in applications relying, for the first time, on Positioning, Navigation, Timing, Earth Observation, and Secure Telecommunications. This year, users from the seven different market segments will present the results of their recent work, share their views on how EU Space technologies can be improved and discuss their needs. The sessions will run in parallel as hybrid events.
Stay up to date with the EU Space News